Bermuda Pond Filter Kit 9000

The Bermuda Pond Filter Kit 9000 includes everything you need to effectively filter garden ponds up to 2,400 gallons. The Bermuda Pond Filter Kit 9000 makes pond filtration easy, including the right pump, filter and UV clarifier to clear water in small to medium garden ponds. The filter box can be partially buried for discrete placement. Filter sponges can be cleaned with a simple pull of the handle!

Key Features
The Bermuda Pond Filter Kit 9000 is easy to install in or above ground
Quick and convenient cleaning
Includes pump, filter, UV, tubing and hose clamps
Foam-free, solids handling pump
Powerful 11 Watt UV clarifier
16 ft. of kink-free tubing and hose clamps
Mechanical and biological filtration
Easy to clean filter sponges
Filter can be partially buried in the ground
Ideal filter system for small ponds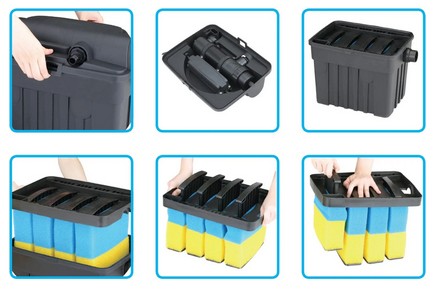 Warranty
1-year manufacturer's limited warranty

IMPORTANT
The Bermuda Pond Filter Kit 9000 is not approved for use in swimming pools or salt water
Must be plugged in to a properly grounded and GFCI (Ground Fault Circuit Interrupter) protected 120 Volt outlet !

Specifications
| | |
| --- | --- |
| Bermuda Part Number | BER0402 |
| Maximum Pond Size * | 2,400 gallons |
| Pump Flow Rate | 440 GPH |
| UV Clarifier | 11 W (integrated into the pond filter) |
| Tubing | 16 ft. of kink-free tubing |
| Fittings | hose clamps |
* All figures are based on the following assumptions: Minimum pond depth of 18 inches. Maximum flow rate shown above is circulated through the filter. Filter is operated continuously.
Pond size recommendations are approximate and are only given for general guidance. All performance data were obtained under controlled conditions. Real-world performance may vary due to local circumstances.
Downloads