Oase IceFree 4 Seasons (72931)

Every winter, the same problem occurs: The pond freezes up completely and toxic gases build up at the bottom of the pond that cannot escape. Toxic gases create a lack of oxygen in the water and cause the poisoning of living organisms. Due to this lack of oxygen, fish and microorganisms have practically no chance of survival.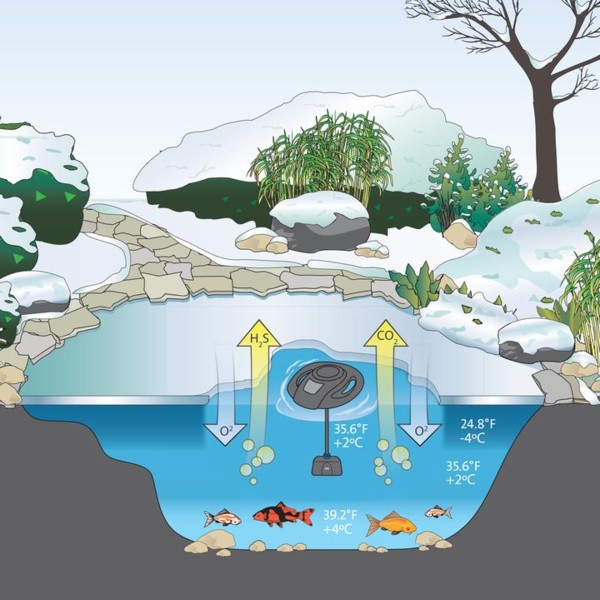 The Oase IceFree 4 Seasons is the solution to this problem. The Oase IceFree 4 Seasons aerates the water and allows harmful fermentation gases to escape by continuous movement of water. It keeps an area of the pond free of ice in temperatures down to -4°F and maintains the warm temperature zones on the pond floor. The Oase IceFree 4 Seasons is powered by an energy-efficient pump without the use of an additional heating element. During winter months the IceFree creates a small hole to allow the important exchange of gasses at the surface of the water, which allows your fish to breathe easily. The IceFree 4 Seasons comes with 2 nozzle heads so you can utilize it as a small fountain in your pond during the rest of the year.

Key Features
The Oase IceFree 4 Seasons keeps an area of the pond free of ice in temperatures down to -4ºF (-20ºC)
Ensures oxygen access to the water and allows harmful fermentation gases to escape by continuous movement of water
Maintains the warm temperature zones on the pond floor
Extremely energy-efficient pump with frost-proof technology that works without additional heating element
In summer it can be used as a water feature to aerate your pond
Safe winterization for aquatic plants and animals
Includes Oase pump with filter housing, float body, 2 nozzle heads, filter bag, hose and connector, nozzle pipe, and stop plug
Warranty
2-year manufacturer's limited warranty

IMPORTANT
The pump must be suspended under the ice cover and a minimum of 4″ to 6″ above the pond bottom (connecting tubing can be shortened if required)
Must be plugged in to a properly grounded and GFCI (Ground Fault Circuit Interrupter) protected 120 Volt outlet !
Not approved for use in swimming pools or salt water

Specifications
| | |
| --- | --- |
| Oase Part Number | 72931 |
| Required Pond Depth | 18″ minimum |
| Submersible | yes |
| Voltage | 120 V / 60 Hz. |