Oase Pondovac 5 Pond Vacuum (48080)

Now even more powerful, the multi-function Oase Pondovac 5 Pond Vacuum thoroughly and effortlessly removes debris and silt from ponds, pools or from wet floors of any type. Thanks to the integrated wastewater pump the dirty wastewater can be optimally drained off without interruption to the suction, saving you the trouble of waiting for the vacuum to empty. Large wheels with whisper tires ensure stable movement through rough terrain as well as low-noise when in operation. The robust aluminum suction tubes, along with a transparent suction tube, permit precise and convenient vacuuming. The Oase Pondovac 5 Pond Vacuum includes an extensive nozzle package and suction hose/drain hose fittings. A floating hose set for use on the swim pond is available as an option.
The Oase Pondovac 5 Pond Vacuum can remove dirt particles up to 3/8″ in diameter, such as algae, silt, dead plants and decomposed leaves. The debris that is collected can be spread directly over the garden as fertilizer for plants through the discharge hose.
| | |
| --- | --- |
| Oase Pondovac 5 Pond Vacuum | Oase Pondovac 5 Pond Vacuum |

Key Features
Pond and pool vacuum for uninterrupted, full power cleaning
The suction pump runs simultaneously with the integrated waste pump which empties the container continuously during use
On the outlet side the Oase Pondovac 5 Pond Vacuum has a plastic quick connect for a reliable and watertight seal and easy removal for storage
Hand regulator for adjusting the suction power, based on water depths
Larger particles such as pebbles or leaves are retained in the pre-filter bag – the zippered bag makes for easy emptying
Larger 6″ wheels ensure stable movement through rough terrain as well as low-noise when in operation
Can be used for cleaning ponds and pools, as well as a wet vacuum around the home
Highly efficient suction depth of 7.5 ft. due to high performance 1800 W motor with optimized blade design
Suction capacity up to 2,100 gal/h
Transparent suction tube for easy visual inspection

What's Included
Oase Pondovac 5 Pond Vacuum
4 robust aluminum suction tubes
1 transparent suction tube
Adjustable floor nozzle
String algae nozzle
Wide area nozzle
Brush nozzle
Wet suction nozzle
Debris collection bag
16 ft. long suction hose
32.8 ft. long discharge hose

Warranty
3-year manufacturer's limited warranty (2 Years + 1 Year upon Product Registration)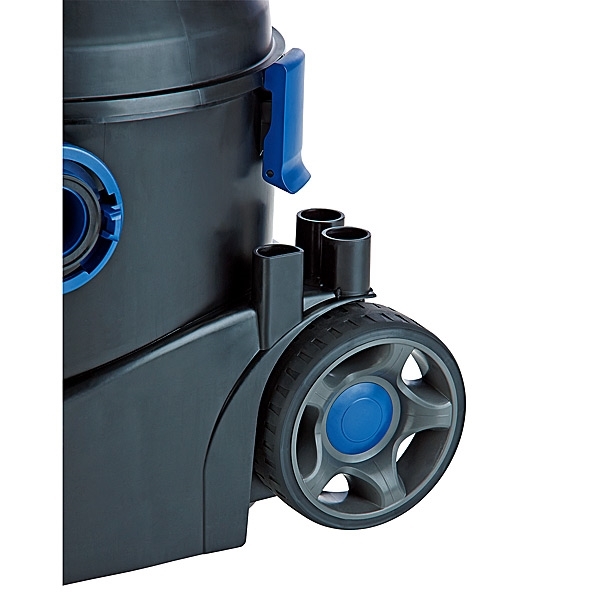 IMPORTANT
The Oase PondoVac 5 Pond Vacuum must be plugged in to a properly grounded and GFCI (Ground Fault Circuit Interrupter) protected 120 Volt outlet !
For safety reasons, the Oase Pondovac 5 Pond Vacuum should be placed a minimum of 7 ft. from the edge of the pond
DO NOT SUBMERSE !
The Oase Pondovac 5 Pond Vacuum is not approved for use in salt water
| | |
| --- | --- |
| Oase Pondovac 5 Pond Vacuum – Quick Connect Hose Connection | Oase Pondovac 5 Pond Vacuum – Sludge Discharge |

Specifications
| | |
| --- | --- |
| Oase Part Number | 48080 |
| Maximum Flow Rate | 2,100 GPH |
| Wattage | 1,800 W |
| Voltage | 120 V, 60 Hz. |
| Power Cord Length | 25 ft. |
| Pond Vacuum Dimensions | 17.2″ L x 16.7″ W x 28.2″ H |
| Maximum Suction Depth | 7.5 ft. |
| Length of Suction Hose | 16 ft. |
| Length of Discharge Hose | 32.8 ft. |
| Weight | 53.6 lbs. |